Compaction Tooling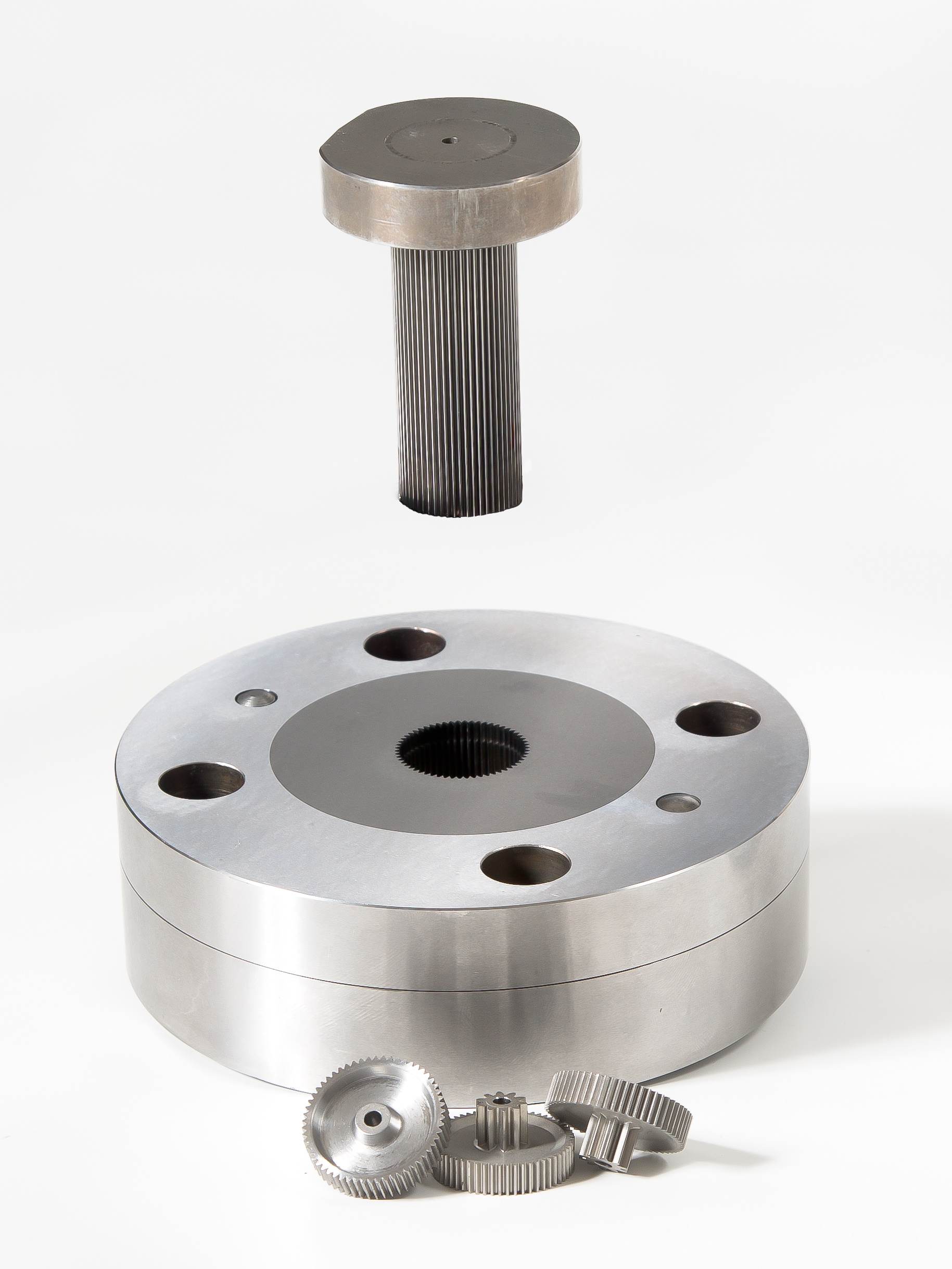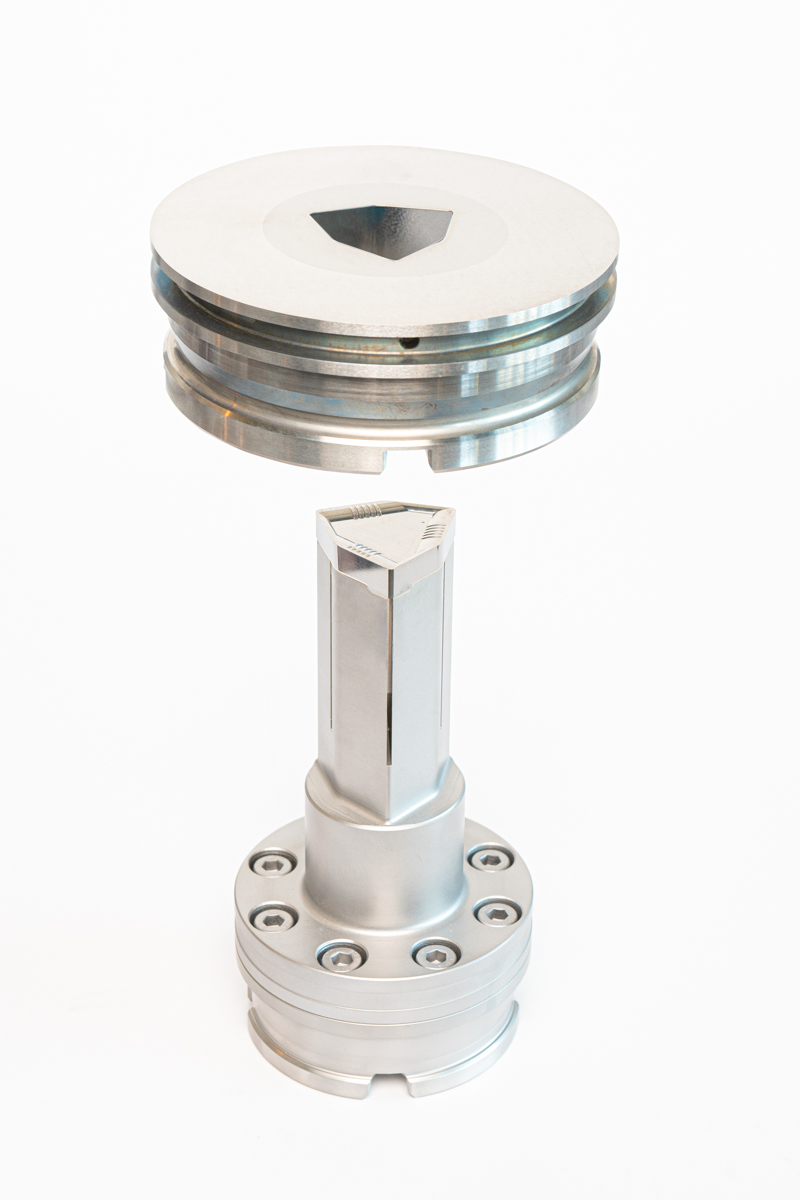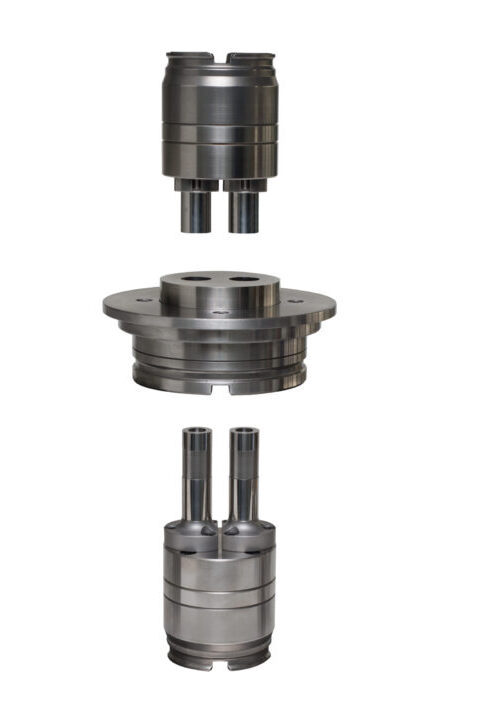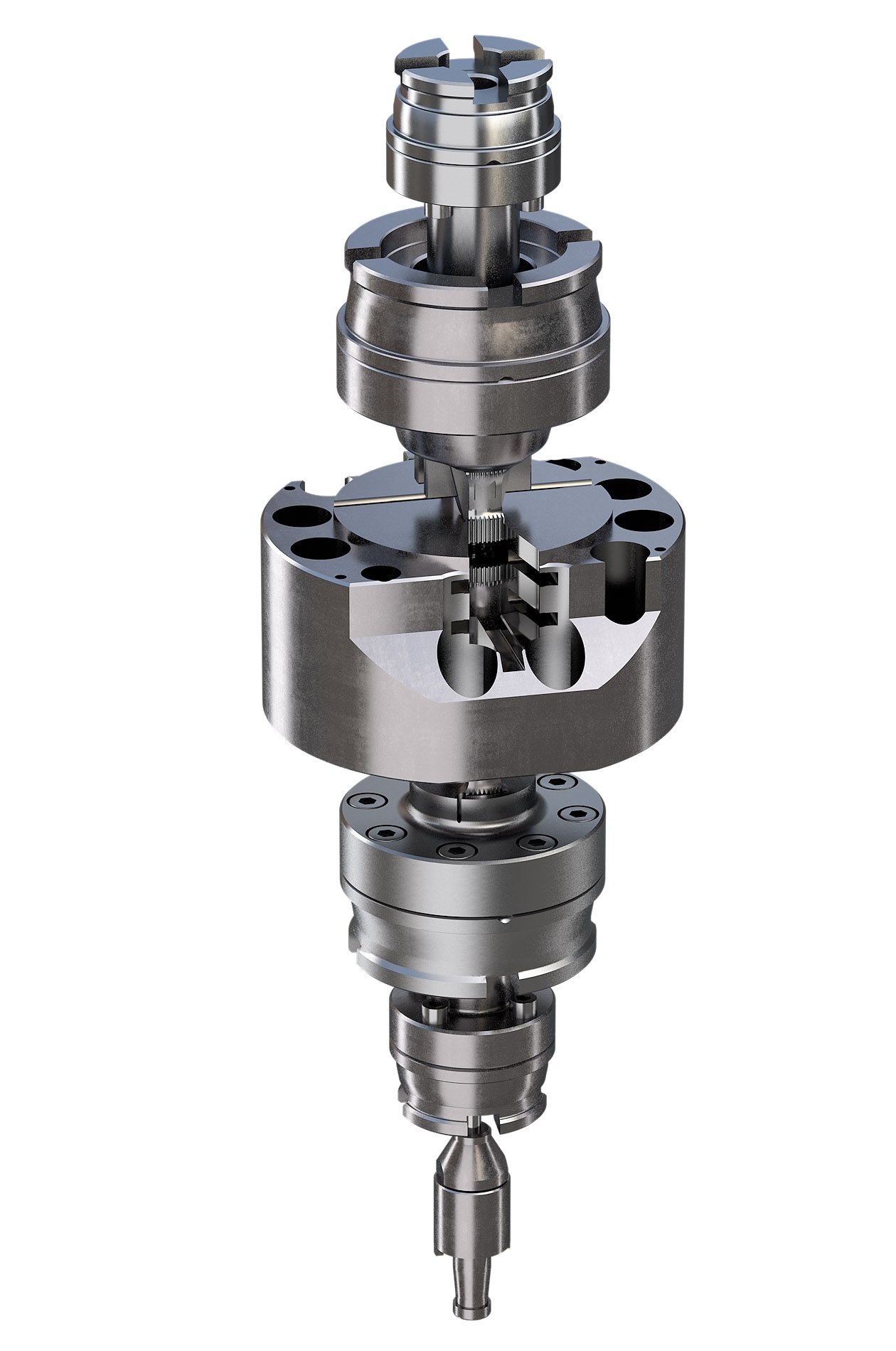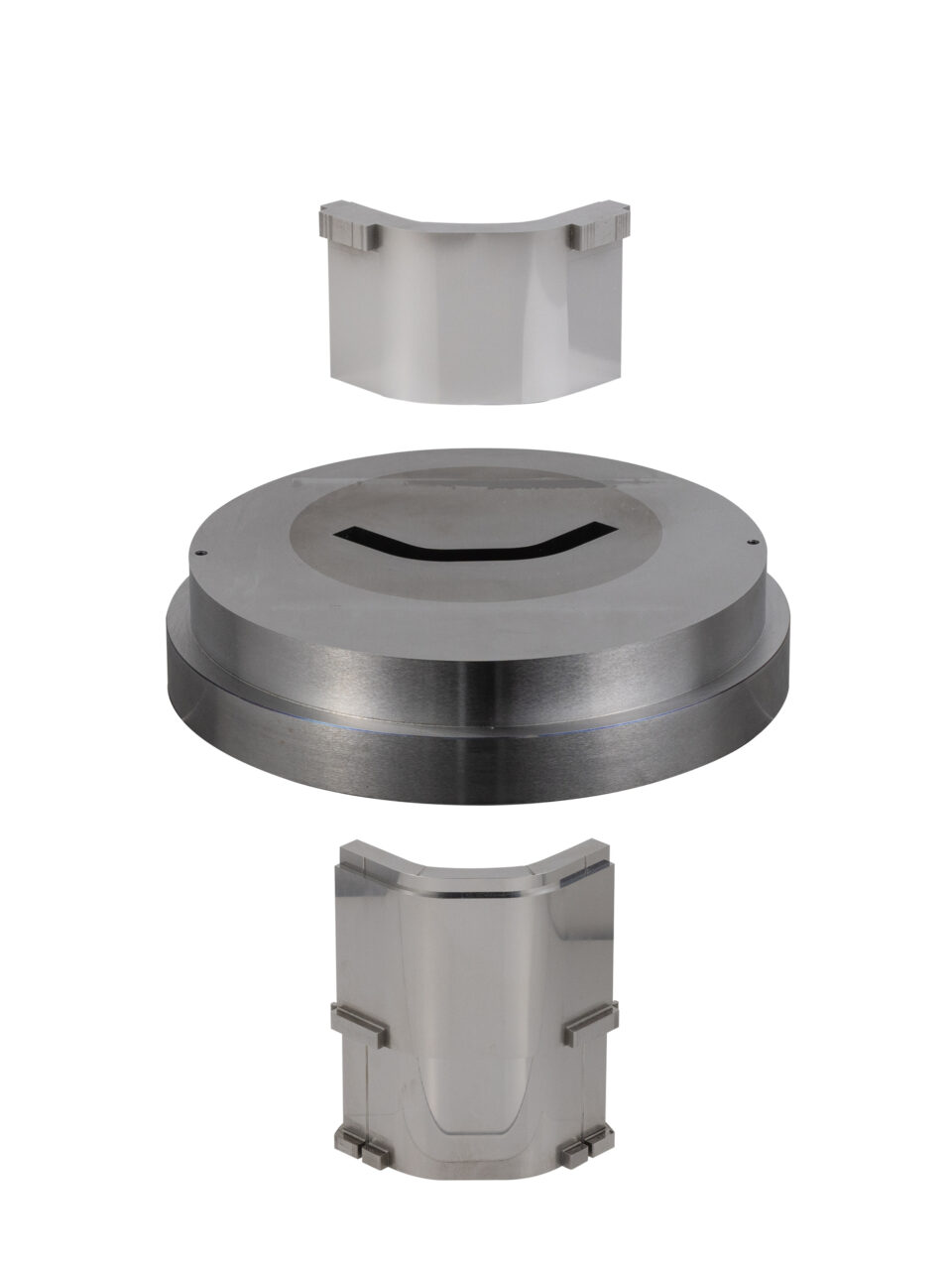 General
For the compaction of precise components from powder, highly precise tooling is a decisive factor.
Our approach is the client has a press and a part. We will provide a turnkey solution to production. The press adapter, zero reference clamping systems, alignment stations are all part of our product portfolio.
SUMCA has the experience to supply the highest quality compaction tools for all kinds of powder compaction.
Different types of powder, like tungsten carbide, ceramics, iron powder, stainless steel, SMC, aluminium, copper, ferrite, plastic, …. have all different characteristics and therefore different requirements on the compaction tooling.
This requires a careful selection of the best tool materials, from various carbide and steel grades, the best surface quality and a controlled air gap between the tool components which are typically maintained within a few microns.
Iron Powder (Structural & SMC) – high compaction forces, distribution of stress and the decompression of the system are all  key to a successfully compacted part.
Hard Metal Powder (Carbide) – whether wear parts or ISO inserts we have a great depth of knowledge to ensure your pressed parts are either finished or with minimal material for honing and grinding.
Ceramic Powder – Abrasion, output, longevity are subjects where our experience can ensure that your production is optimized.
For each market place we have long standing relationship with press constructors participating as the tooling solution. In our capacity as compaction experts we supply the tool design, movements of the press with recommended weights, forces and stock level for secondary operations. In our capacity as tool makers we can simply provide a replacement core rod for an exisiting press.
In the last ten years SUMCA has developed many features for innovative tool design. One of the key features is our Geo-Gleiss process, where an ultra-low coefficient of friction is attained due to the super finishing of our tooling. This surface quality is assured with its geometry to guarantee a constant air gap between punch and die. Our metrology team assure our clients of the repeatability of our tools which is of ultimate importance in a global, JIT environment.
This is one of the many features that make our tools the best. We invite you to read on to discover more about some of the tooling systems that we have running.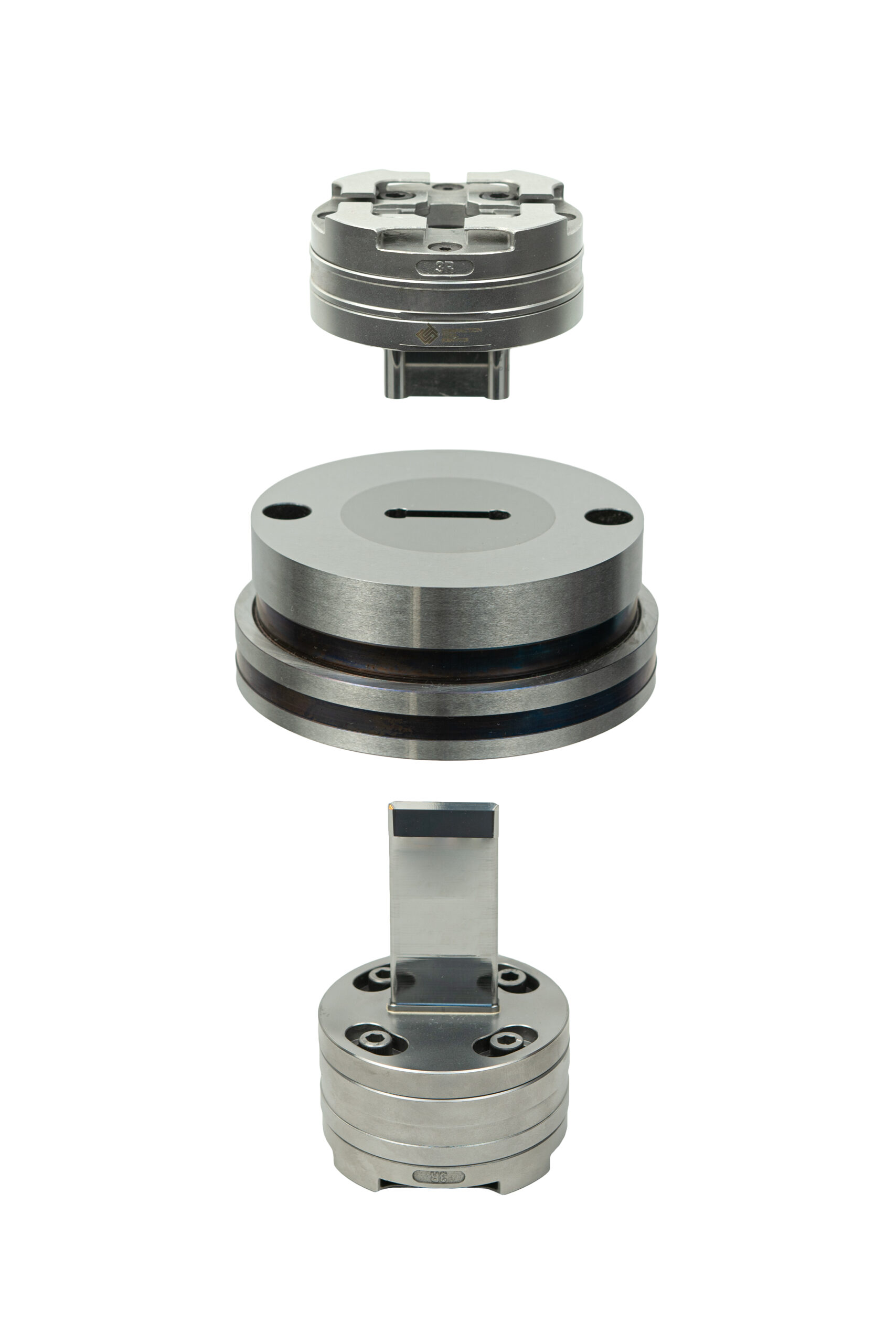 Quick Change
As a specialist tool maker we have many years of experience partnering companies with presses equipped with a zero reference system and can call upon many satisfied customers to explain the value to those exploring the possibilities.
The advantages of a zero reference system are numerous.
The step change on a production units profit and loss is palpable. Improved uptime, reduction in scrap, lower tool costs whilst needing less training to operate the system resulting in a win-win for all involved.
Our experience shows that it is the shop floor team who once having used the system will demand further deployment.
It simply makes the day easier.
We are equipped with all the chucking systems seen from the key suppliers and have solutions in place for handling large libraries of existing tools. Additionally, we offer a customised pallet solutions to change the limits of the standard catalogue facilitating a modern press shop.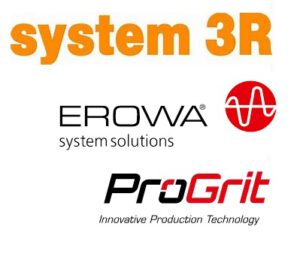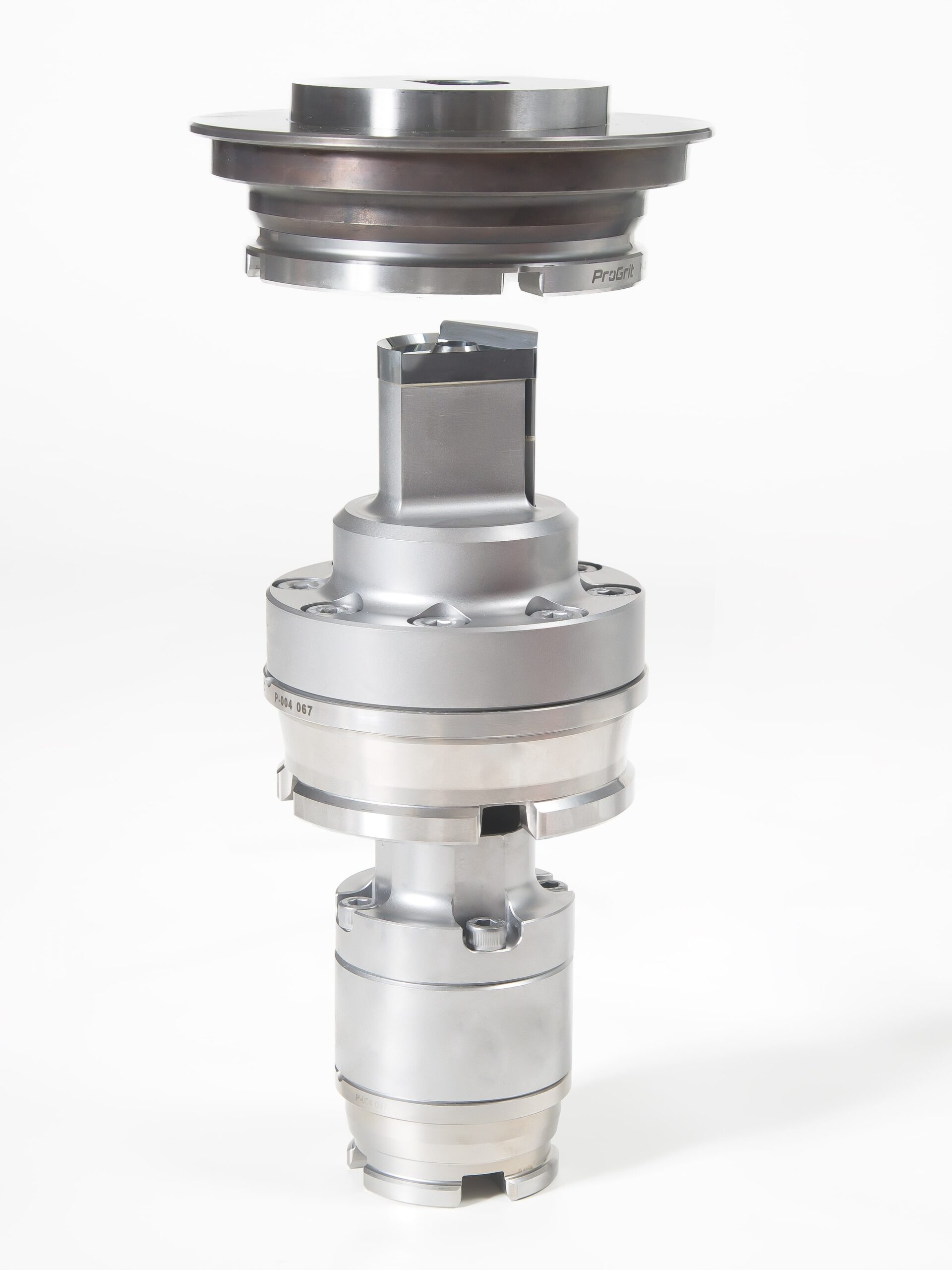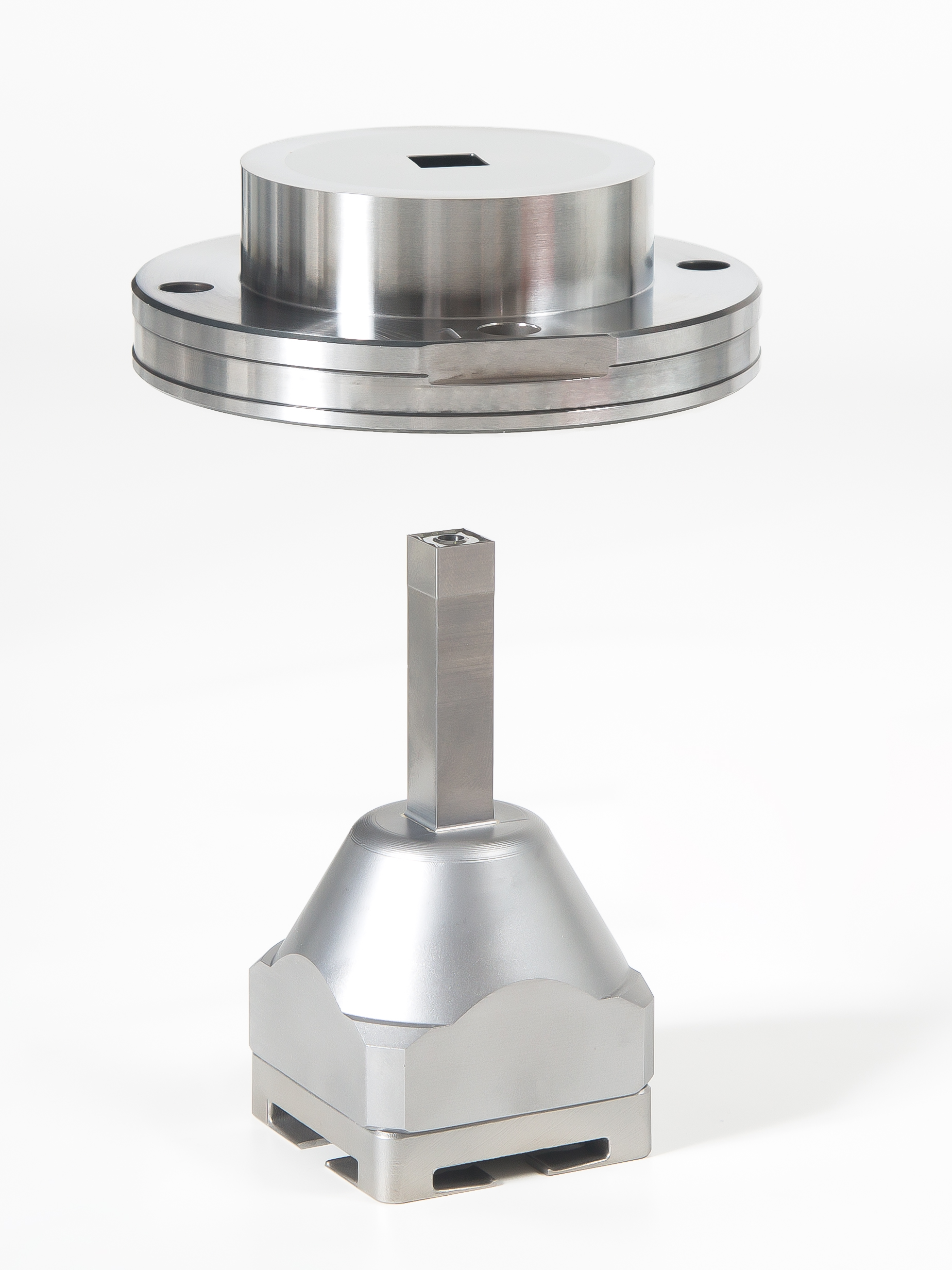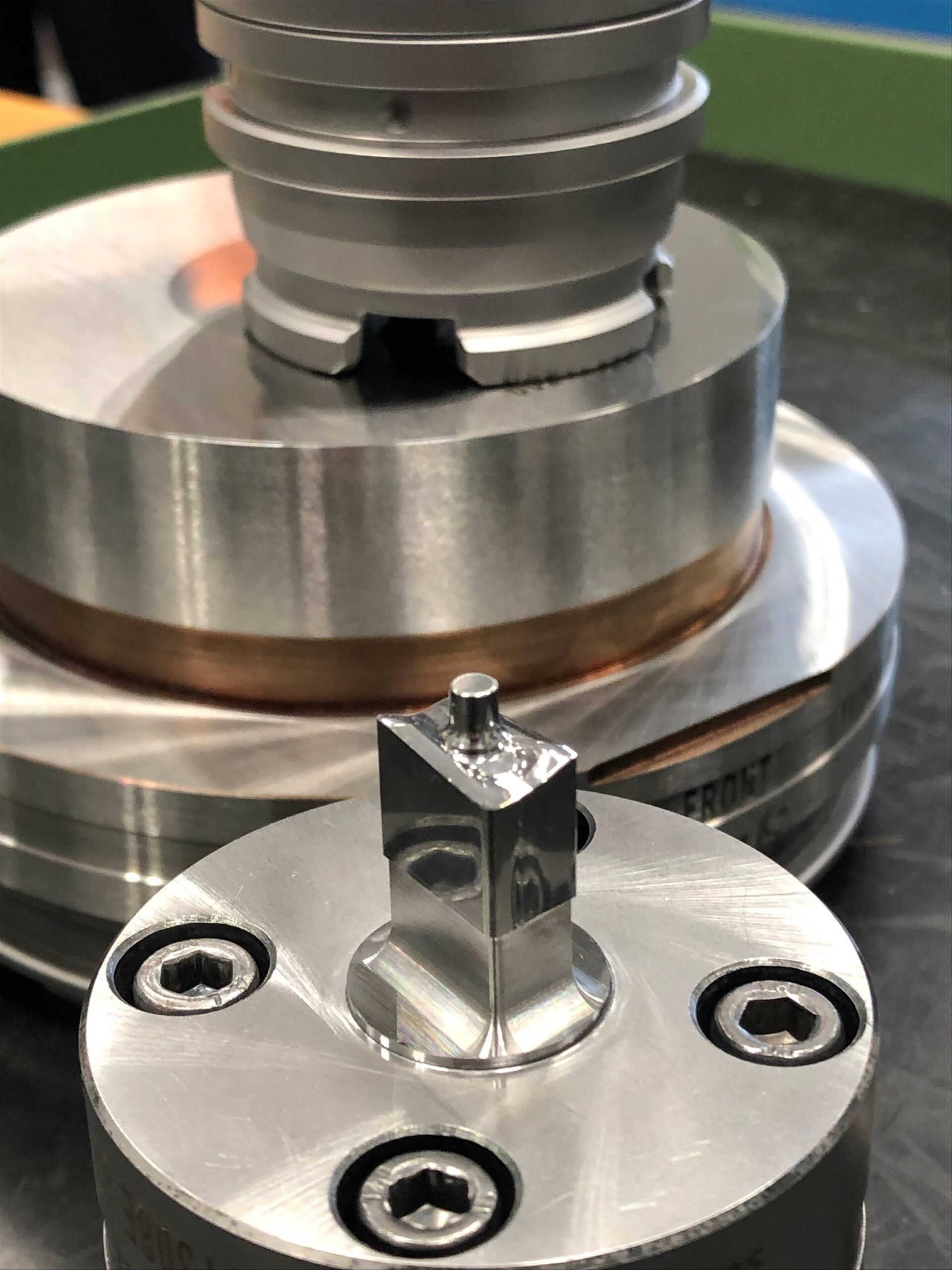 Insert Tooling
Compaction tools for carbide inserts are on of our specialities. No matter if it is carbide inserts for milling, drilling, turning or the very small grooving inserts, we have the right compaction tool for you.
Of course the tools can be supplied on all common quick clamping systems to ensure the highest precision and productivity for your production.
Pressing on the choke point of the die to produce net shape inserts is a speciality. We have many years experience and are now capable of validating the closure of the die to the punch in 3D with no limits on corner radius.
We offer the full ISO catalogue of inserts and all the unusual related products too. For classic ISO tools we can offer rapid deliveries on quick change tooling when needed for prototyping or production stoppages.
The images below demonstrate the four main groups covering negative, positive, helicoidal and grooving. This is not an exhaustive list but gives structure to our offer. All tools are produced with zero edge rounding for clean compacted parts.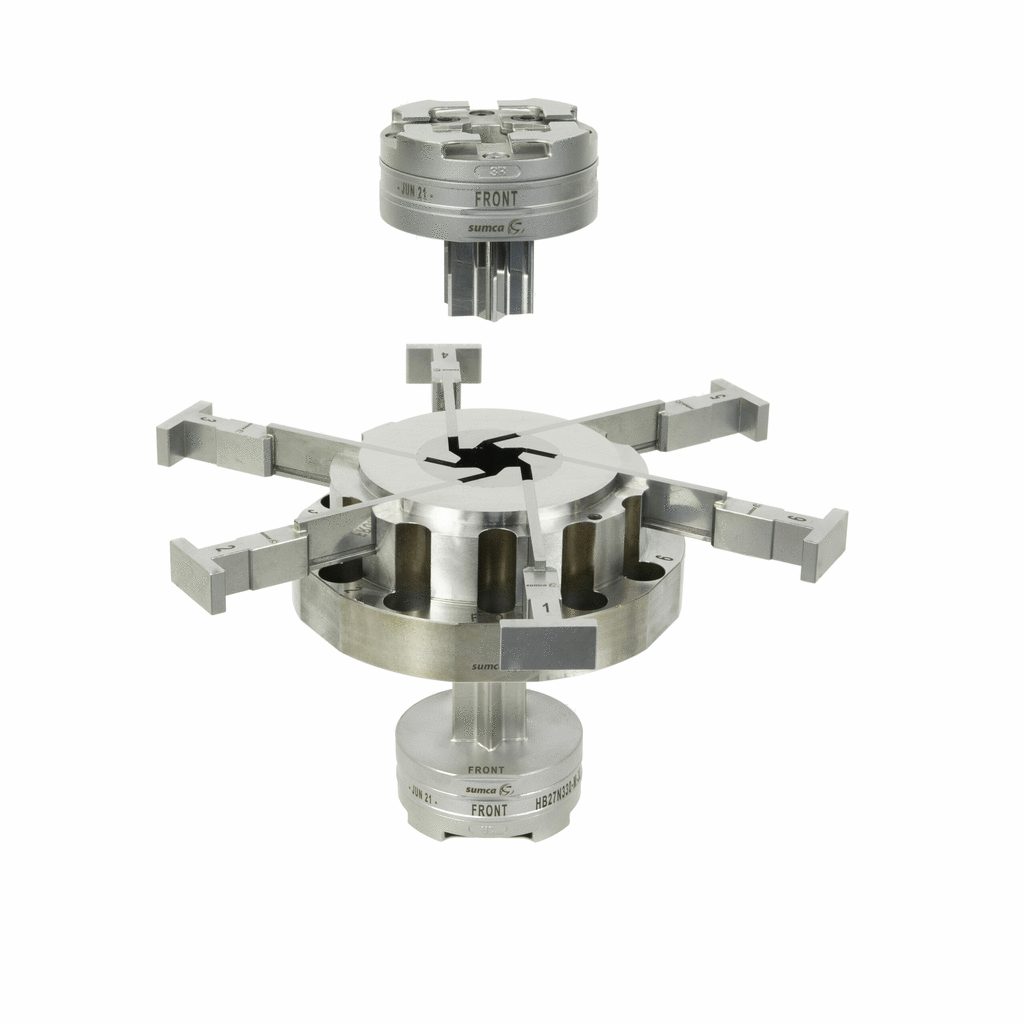 Cross-Press
Cross-pressing is the very latest compaction technology. It was enabled by the latest generation of CNC presses, mostly servo-electric compaction presses.
Cross-pressing makes new generations of compact parts feasible which were unthinkable in conventional axial compaction.
Especially in combination with split die compaction concepts, components with highest complexities like undercuts or reductions in sections can now be compacted.
The opportunities are far reaching – avoid costly secondary operations, offer parts that were destined for alternative processes such as MIM or CIM.
SUMCA has been a development partner of leading press makers in the development of cross-pressing tools and therefore the experience to realize your more complex components.
We can supply tooling for cross pressing with a zero reference system to ensure stability in the system.
Our experience in cross pressing solutions will enable our design team to exchange with you on feasibility studies and generate innovative solutions.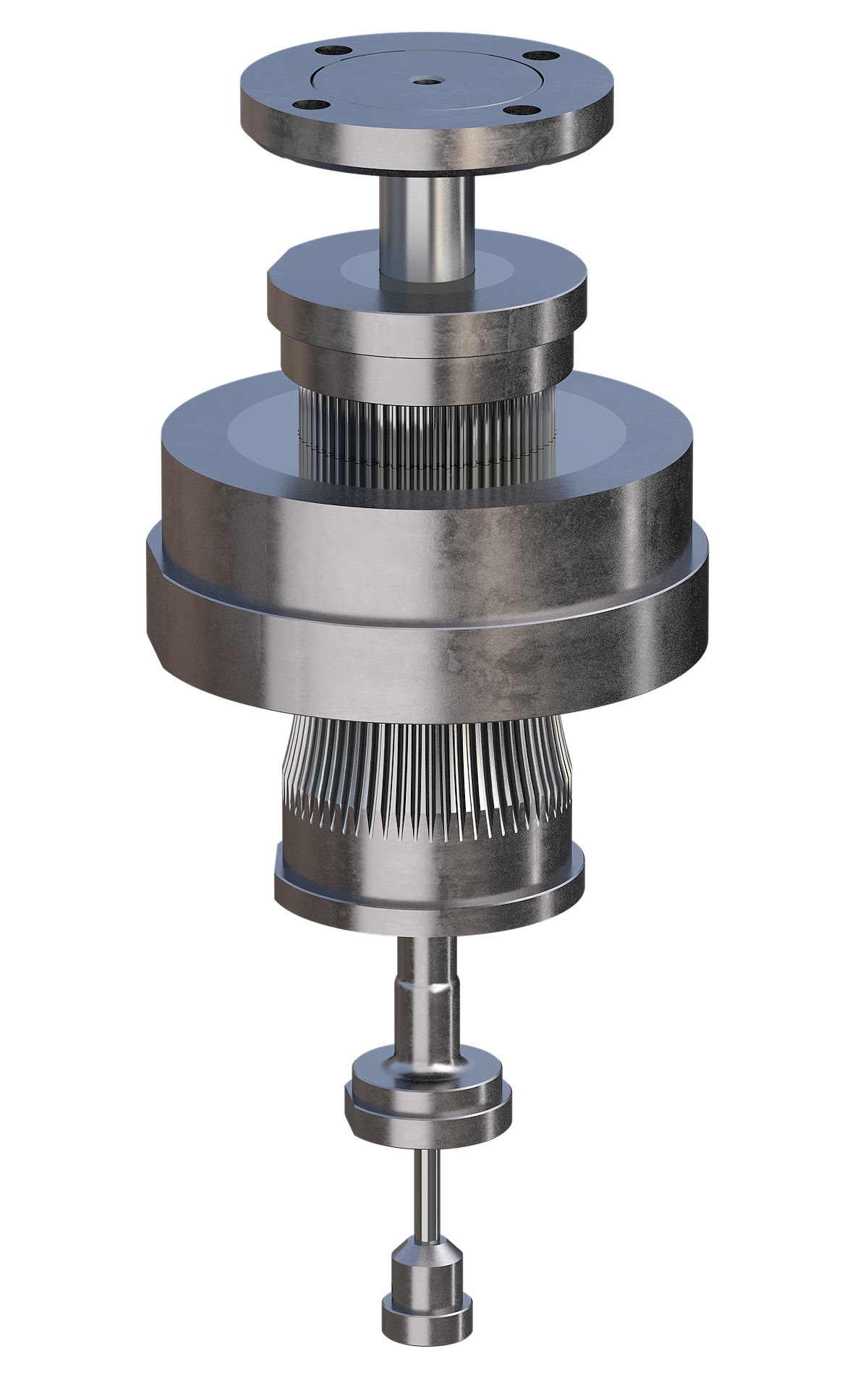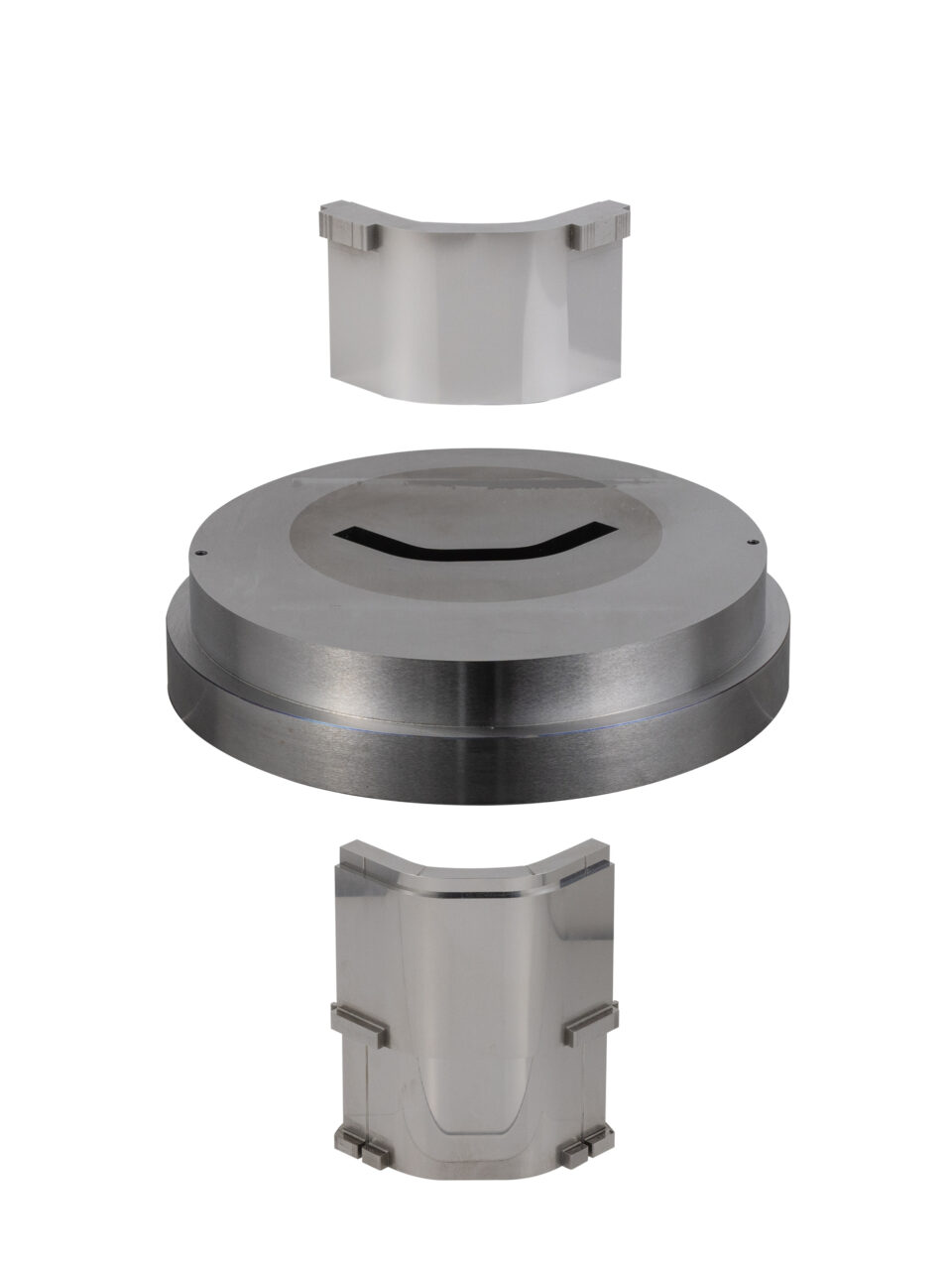 Multi-Level Applications
Especially in iron powder but also in other powders, complex multi-level components like gears, sprockets, belt pulleys or shock absorber components require compaction tooling with die, core rod and up to 3 upper punches and up to 4 lower punches or even additional pins for weight saving holes.
SUMCA designs and produces complex multi-level tooling with the right air gaps and best surface treatment to ensure smooth functionality and long lifetime.
A full cinematic of the tools movements are integrated to the press movements to ensure process feasabilty including specific forces for each level and that the part can be pressed correctly and removed safely with collision.
The stepped sequence of the tooling movements allows for all stages to be described for clear project management such as powder transfer, syncronised movement and the decompression / uncovering stroke to be simulated and understood by the team preparing the press for production.
When dealing with multi-level parts tooling become long and thin-walled sections are common, not ideal for high pressure compaction required with iron powder. We have solutions in material preparation and geometry to ensure a robust process – when necessary a finite element analysis is required to model the tool and avoid a lengthy delay in a project.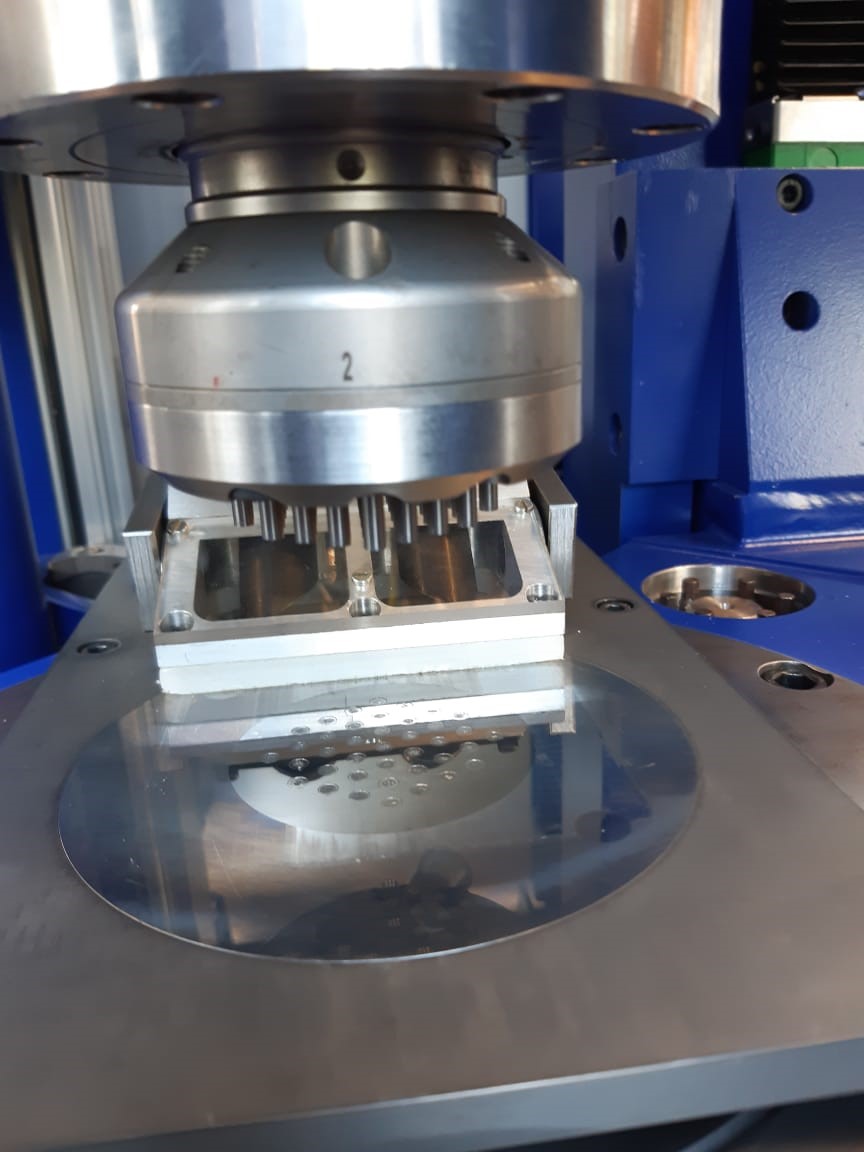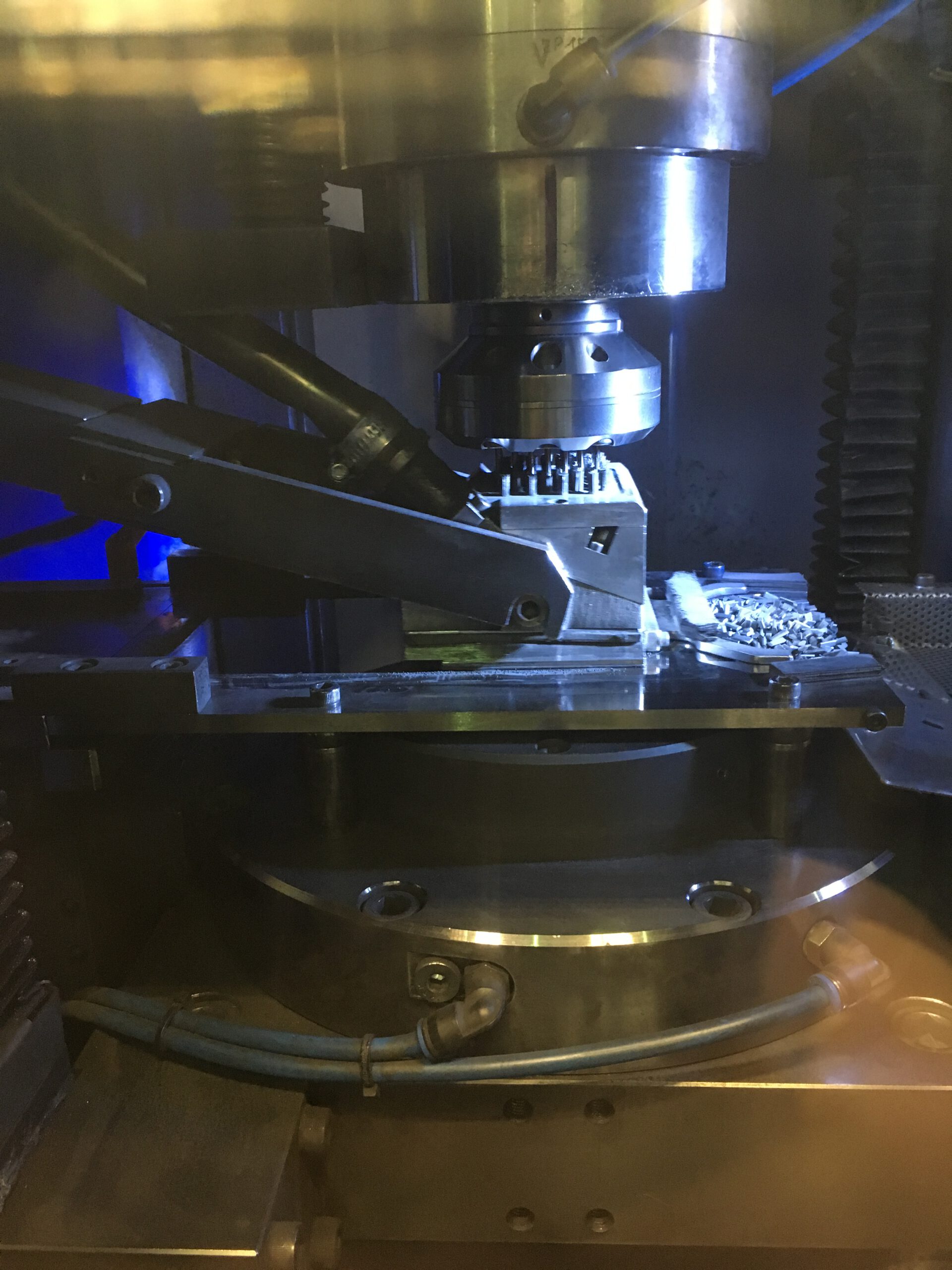 Multi-Cavity
Increase the productivity of your press with multi-cavity tooling from SUMCA.
Depending on the size of the components and the size of the press, even 40 or more cavities can be realized. Multi-cavity tools can be delivered on quick clamping systems too, to guarantee the highest precision and fast changeover times.
With our experience in multi-cavity tooling, SUMCA is your specialist to optimize your productivity and output.
The ideal solution is a pallet solution from one of our range of flexi-pallets allowing the consumable part of the tool to be easily loaded into the press safely being prealigned in a high precision flexi pallet.
The flexi-pallet solution can be fitted to chucking systems that we support – Erowa, System 3R and Progrit. The consumable cost will be of interest to production where the volumes  are medium volume but more than one shift is required – a real gain in output and a direct impact on the profit and loss account with no capital expense.
Helical Gear Tools
In gear assemblies, especially in automotive, more and more high-speed applications occur which transfer high loads and are noise sensitive. That creates new applications for helical powder metal gears.
Due to our most modern production machinery, SUMCA is able to provide you with accurate tooling for the compaction of helical gears.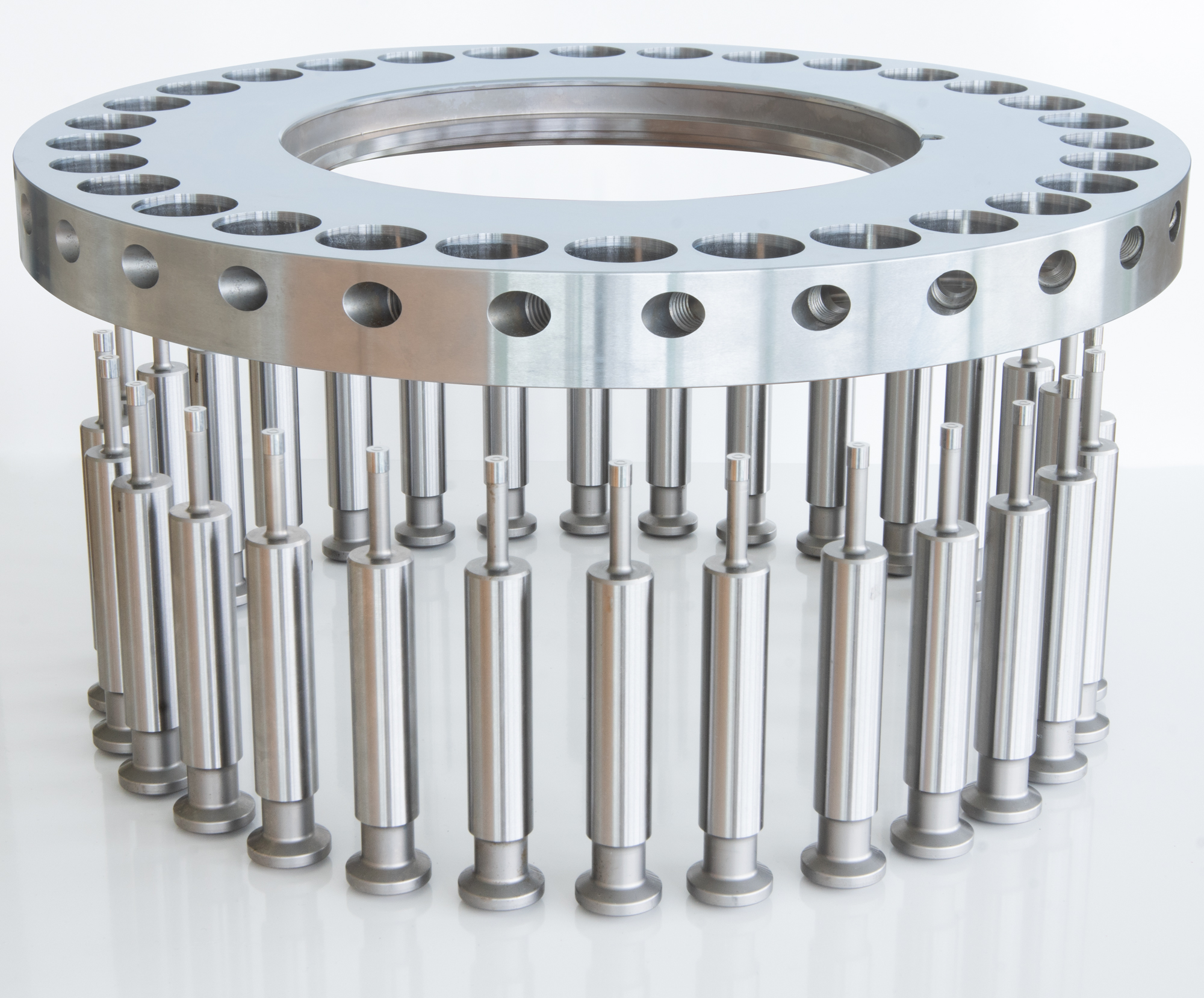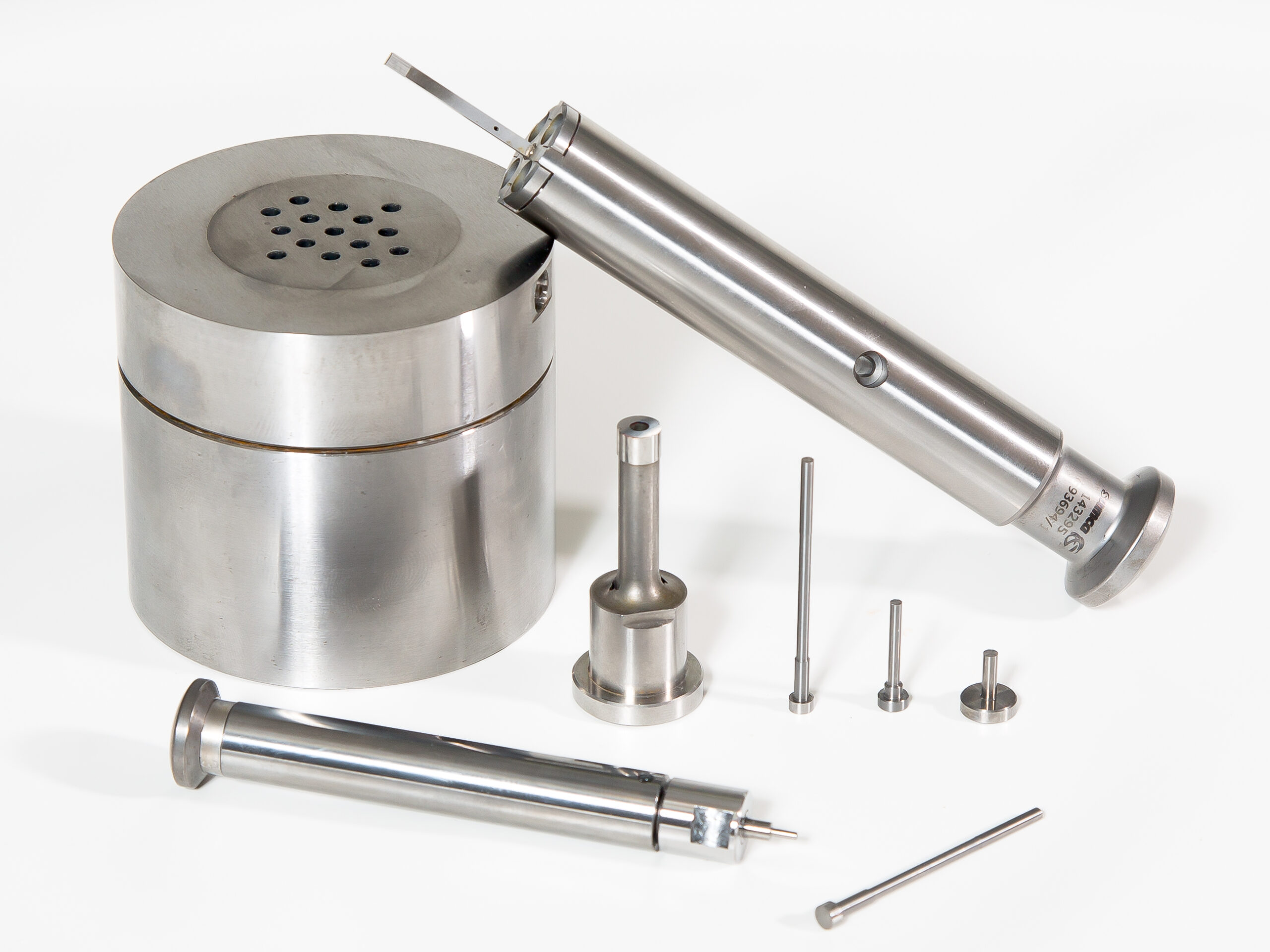 Tools for rotary presses
To compact small components in high quantities, rotary presses are a good choice. SUMCA cooperates for many years with leading suppliers of rotary presses and assist you in your development of high-volume components produced in an efficient way.
We offer competitive solutions for the press environment whether the you need a die table or punch holders we can offer a standard plug and play solution or optimize to your specification to ensure your presses run world class.
We can offer the punches and holders, dies and the ancillary equipment around the press. We offer a good retro-engineering service in the event that you do not have the production drawings of what is required.
The punch holder range covers carbide sleeved bodies that will give a massive impact on tool life (in the order of 10 times over hardened steel). Less down time with quick change overs being on a press that is designed to perform.
Bipolar Plate Tooling
Fuels Cells
Bipolar plates are a relatively new product. We follow companies that are stamping or forming from steel sheet or pressing graphite.
The value that the company offers is low variability whether determined by geometry or surface finish.
A bipolar plate has a direct impact on the flow field performance and the overall efficiency of a fuel cell.
Good In = Good Out, hence the need for sub-micron resolution. We are developing a high-performance making system with full metrology support to ensure that we can detect variances in our manufacturing.
Working directly from the 3D model and then closing the loop in metrology – the calculated flow field form is assured.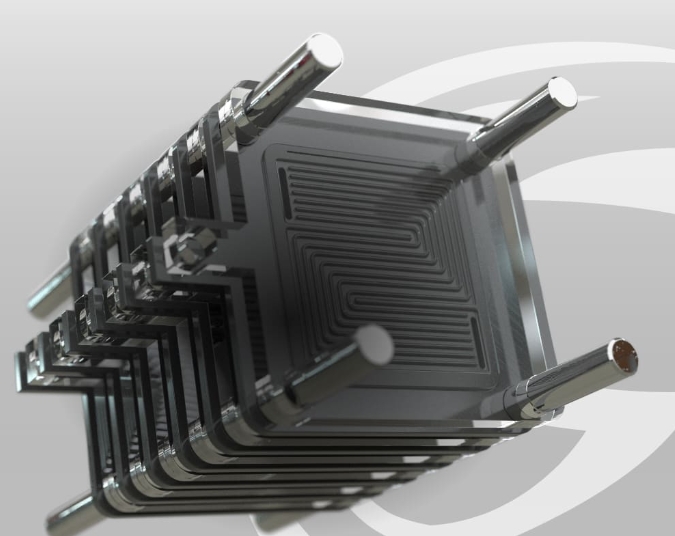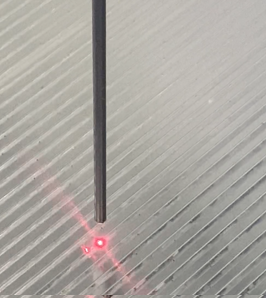 TECHNOLOGIES SUPPORTED
HYDROFORMING
STAMPING
PRESSING
Forming, Cutting and Blanking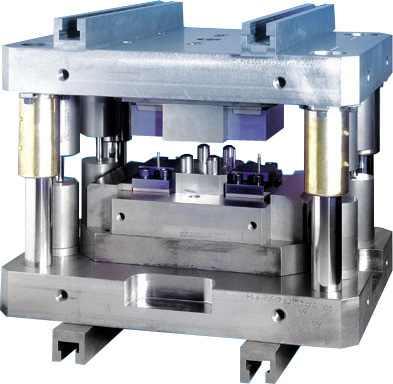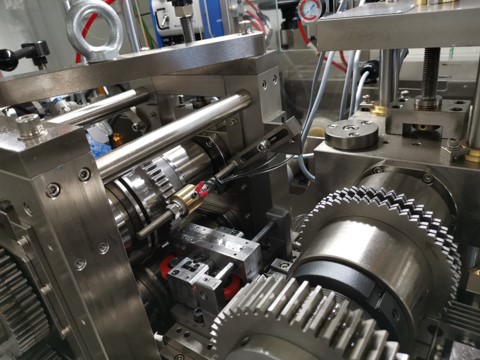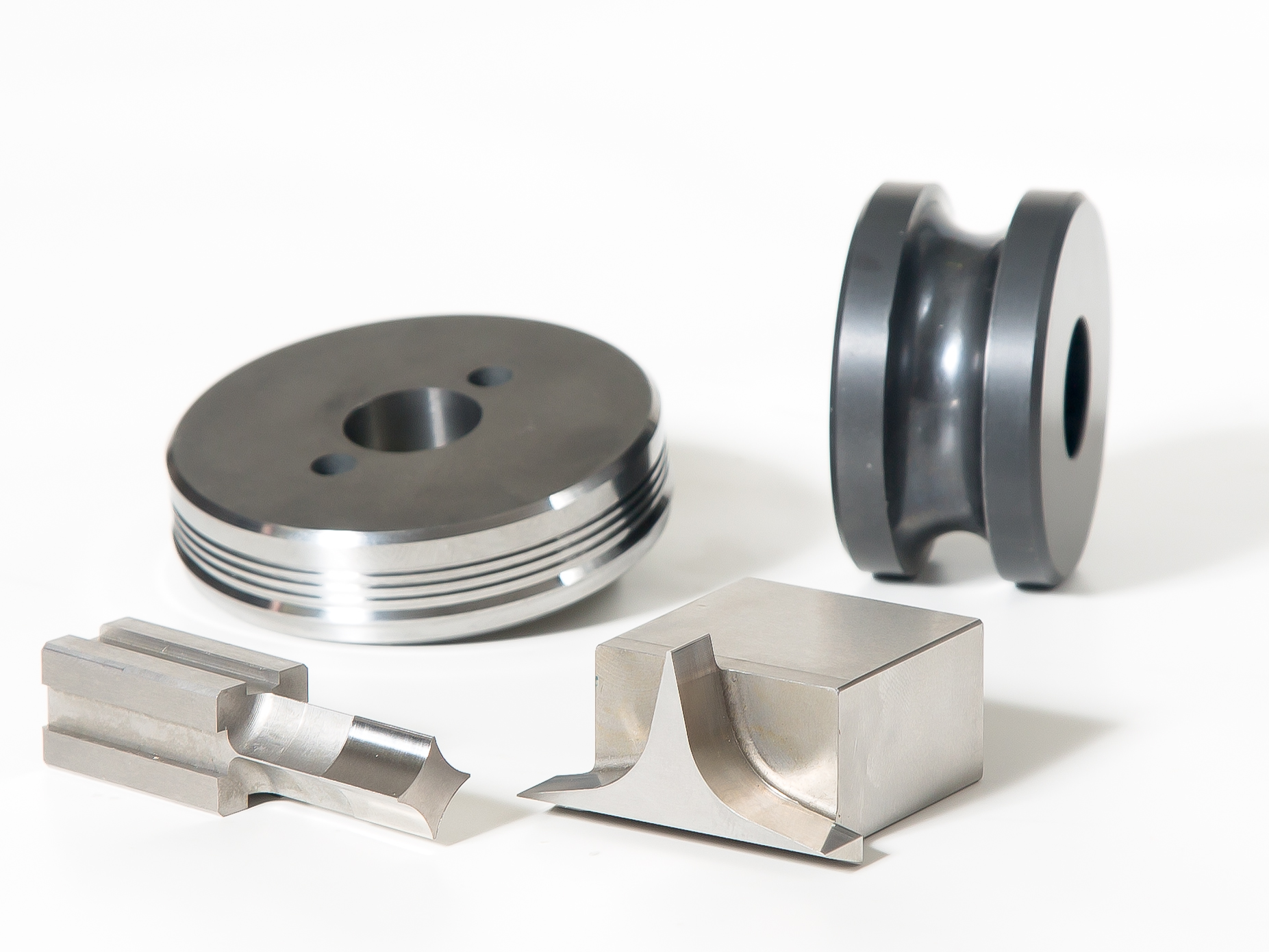 High Volume Production Tooling
As a high precision tool maker a significant portion of our tooling will find its way into stamping, fine blanking or cutting. Whether a carbide die or an ultra-tough steel not only can we make it with our modern five axis machine park but we also can provide advice on design and development of high performing systems.
Crisp edges, super finishing, guaranteed air gap mean that punches coming from our workshops are going to perform. Whether burr management, cycle time or tool life are key concerns we can provide a competitive solution.
Tools are produced in a lights out, air conditionned workshops. Our processing is enabled with automation giving market prices for premium quality.
Our tooling is either stationary or in rotation and as such is therefore produced with a great detail of attention to the clamping face relative to the active face to ensure that the cut is crisp and clean. Our process depth in the field of grinding, high speed milling and erosion means that we have the right process for your parts. No compromise.